Gazpacho is a cold Spanish soup featuring in-season vegetables blended to a chunky or smooth consistency. We should really stress the IN-SEASON part here, because the soup requires no heat and very little seasoning, the raw vegetables will be the true focus of your gazpacho flavor and therefore should be carefully picked. We highly encourage divination for our ingredient list based on what in-season produce you can find.
This is also a soup that keeps well and is almost better a day or two after making it, so leftovers are encouraged.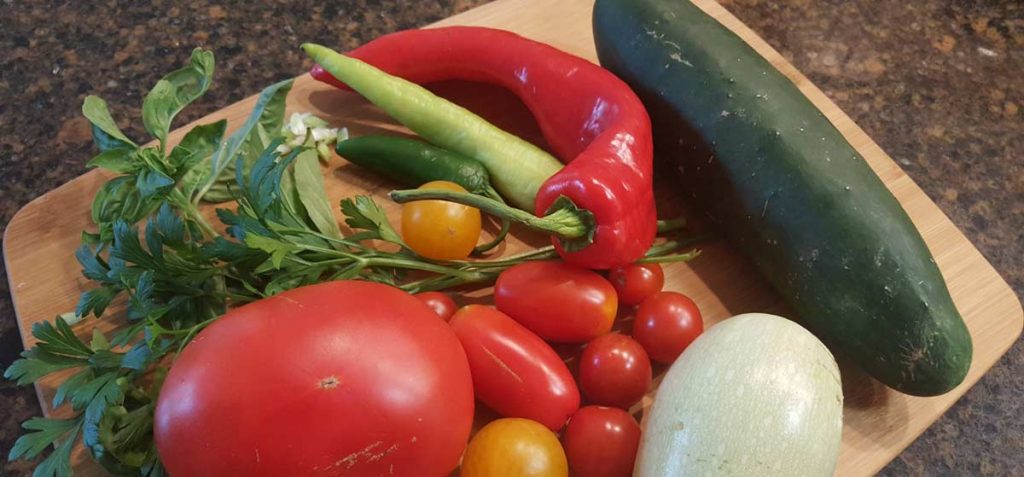 Why cherry tomatoes? Cherry tomatoes tend to be sweeter so add great flavor.
Did you know: Yellow tomatoes are lower in acidity and therefore sweeter than a red tomato?
What is Kusa? Kusa looks like a bleached zucchini and although similar to other summer squash varieties, this Lebanese squash is sweeter. Squash is not normally an ingredient of gazpacho, but we were curious what it's addition would do and really enjoyed the outcome.
1) Peel, seed, and chop medium-sized tomatoes, cucumber and kusa squash.
2) Seed and chop the red and jalapeno peppers.
3) Chop the pint of cherry tomatoes, scallion, basil and parsley.
4) Add some salt to the chopped tomatoes to start drawing moisture out.
5) Blend medium-sized tomatoes, cucumber, kusa squash, peppers, scallion, basil and parsley together.
6) In a separate batch, blend the pint of mixed cherry tomatoes. 
7) Strain the cherry tomato mixture into the main mixture to remove most seeds and skins.
8) Add vinegar and oil, cover and chill for a couple hours until very cold.
9) Taste then salt or add additional vinegar and oil to desired taste.
10) Serve cold and garnished with herbs, chopped cucumbers, some soft R&G Cheese, toasted bread, Oscar's Smokehouse Bacon, garlic-seared shrimp, or vodka.