Asparagus season holds a special place in our heart as it's the first crop to pop up on our farm. A sign that another season, when ground to table eating requires very few steps, is right in front of us.
Asparagus is also a favorite because although it's a very quick season comparatively, it's even quicker to prepare and enjoy. Easy to roast, saute, grill, steam, use in place of peppers in your favorite recipes, or with a couple additional steps – create summery soups.
We tried a few different variations of these soups including a roasted version with ginger and pear which was also extremely good, but the bite of lime and cilantro is something I endlessly crave so it edged out the other versions by a hair. If you have the taste buds that make cilantro tastes like soap, basil would be a good alternative.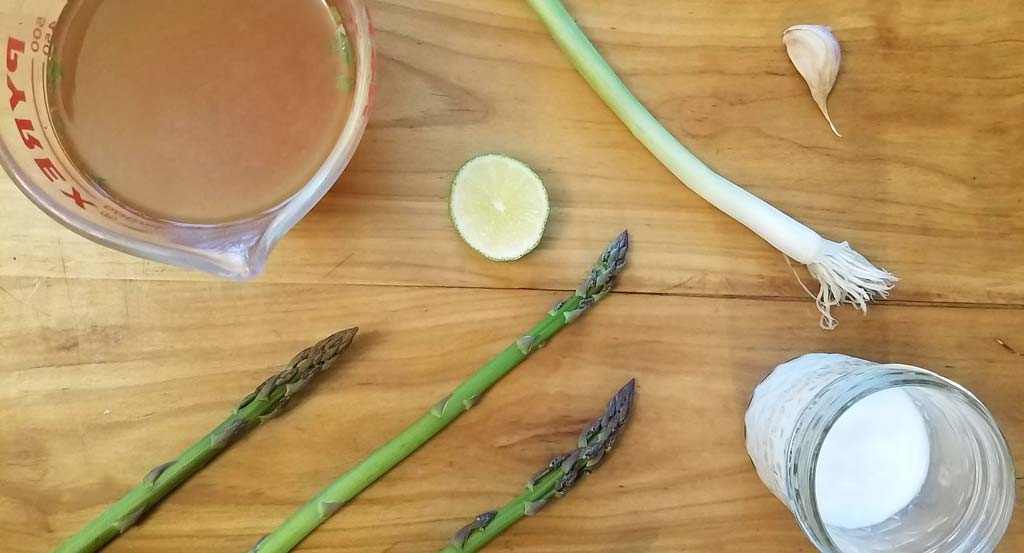 Ingredients:
1 lb fresh asparagus
3 sliced scallions (onions would work)
Butter
2 cups stock (any flavor – I didn't have any stock so mixed an extra packet of shrimp ramen seasoning with 2 cups of water)
Milk or heavy cream
Lime
Cilantro
Salt
Directions:
Cut asparagus into inch pieces cutting tops a little longer and removing woody section from the very bottom. If you have a mixture to thick and thin asparagus, try cutting the thick asparagus into smaller pieces to even out the cooking time.
Add to heated pan with butter and garlic.
Slice green onions and cilantro, add to pan reserving some for garnish.
Cook until tender then add half the stock.
Heat through, remove some asparagus pieces then blend using your preferred method (immersion blender, regular blender, food processor, etc).
Add more stock and milk to get desired thickness/color.
Salt and squeeze lime to taste. Be cautious not to over-salt, flavors will continue to develop in the fridge and more salt can be added before serving.
Serve warm or chilled.
Garnish with asparagus, cilantro, green onions, and a wedge of lime.